Landscape & Lighting: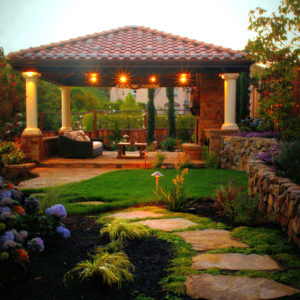 Though the focus on primarily building physical structures is what started this company, B. Gordon Builders, Inc. (BGB, Inc.) has grown to the capacity level of managing entire backyard and property renovations from beginning to end. Landscaping around our structures is what brings them to life, literally. Grass, plants, shrubs, flowers, trees, as well as water features and other design elements enhance our structures by visually incorporating them into the natural elements.
However, when the sun sets and the sky darkens, it is time for the ambiance lighting to shine. With strategic placement of lights on and around our structures and throughout the yard, key features and specific areas can be illuminated with a soft glow or more boldly featured with spotlighting. Main entertaining spaces can be fully lit or dimmed based on the homeowner's preference as the socializing continues late into the night.
Masonry Stone & Tile:
Also categorized as hardscape, masonry stone and tile are used to beautify what would otherwise be rather standard structures or features. Contrary to the label "hardscape," which simply refers to the inanimate and solid nature of the material, masonry stone and tile actually soften hard edges and mask certain structural features to help them flow with the design in the grand view of the outdoor space. Masonry stone and tile can be used to enhance outdoor kitchens, backsplashes, fireplaces, posts, walls, stairs and much more. Stone provides for a rough, but very elegant and natural appearance, while tile can be provided in virtually limitless color combinations and designs, which really adds a personal flair to the particular structure it is applied to.
Concrete & Pavers: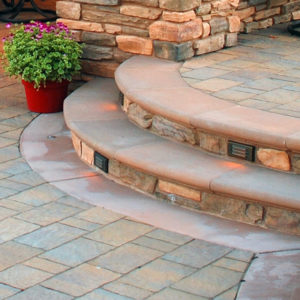 Concrete and pavers, considered hardscape elements of a yard, can create the perfect patio, walkway, pool deck or driveway. Though sometimes under-appreciated, the proper selection of concrete and/or pavers can make or break the element of fluidity among the various spaces of the yard. Proper selection of concrete and pavers is essential, whether its pavers that lead you around the bend and away to a lush secret garden, or the use of elegant stamped concrete to define the parameters of a designated space such as an outdoor kitchen and dining area. We make sure that homeowners have the option to choose from a multitude of colors, styles and designs that will correspond and fit naturally into the outdoor space.
Fences & Screens: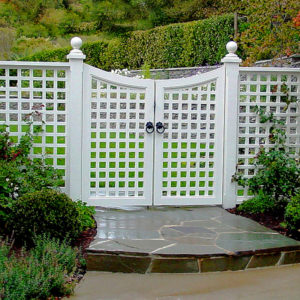 Artwork, accents or integrated view modifiers, fences can enclose a yard or storage area or even divide two types of yard themes. A tranquility garden here, a vegetable garden there, and a more artfully landscaped or high traffic area, all perfectly linked. Fences also block wind, create shade, or enhance your yard's lushness by fostering plant growth